Tuesday, November 7, 2023
The Warren Gateway Opens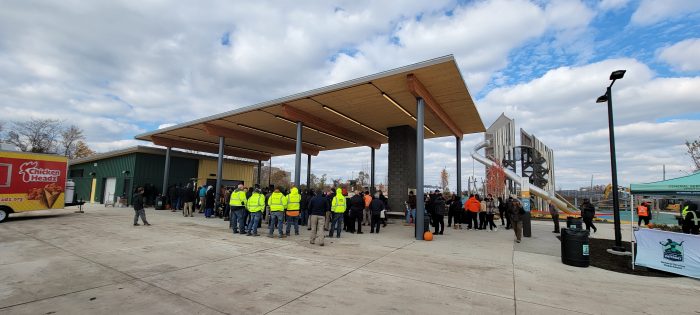 The project team from HamiltonAnderson celebrated with City of Detroit leaders and the local community last week at the ribbon cutting for the new Warren Gateway.
"The $6 million Warren Gateway segment is the first constructed trailhead on the Joe Louis Greenway, on the border of Detroit and Dearborn. It consists of a 4-acre park that sits west of Central Ave, and features a signature playscape, a pavilion with flexible community space, fitness equipment, green infrastructure, and accessible parking."
From our Founder and President, Rainy Hamilton, Jr., FAIA, NOMA: The Warren Gateway Project has a special place in my heart. This is the neighborhood where I went to elementary school and enjoyed riding my bike over the abandoned Detroit Terminal Railroad right-of-way. Years later I developed a concept for the Detroit Regional Chamber called Rails-to-Trials, envisioning the abandoned rail line converted to walking, jogging and cycling trails and knitting together the adjacent neighborhoods. With my love of railroading and industrial environments, it was easy to suggest a design direction that incorporated shipping container elements, simple and expressed structure and a chimney for the outdoor fireplace, mimicking the smoke stack of a steam locomotive. Our mission – to reimagine and rebuild Detroit, one house, one block, one neighborhood at a time.
Some articles on the project:
City, state officials join community in celebrating the completion of Joe Louis Greenway's stunning new West Warren Gateway
Joe Louis Greenway's new trailhead links Detroit to Dearborn
$6 million Warren Gateway Debuts, a Part of Newly Constructed Joe Louis Greenway
Photos from the ribbon cutting: