Tuesday, April 18, 2017
SHoP Architects + HAA design the Proposed Hudson's Development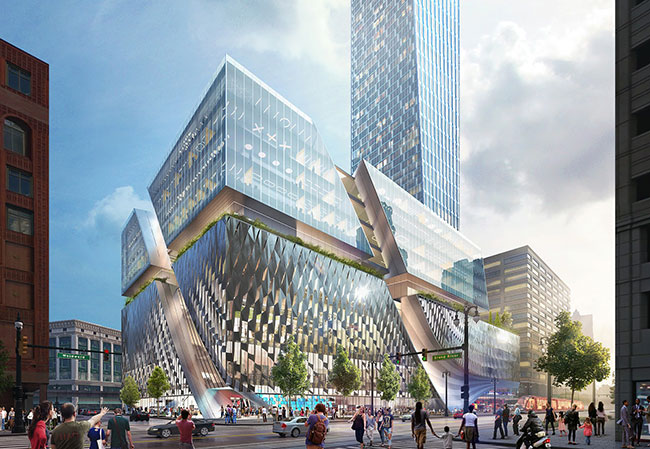 "In its heyday, Hudson's was a premier destination in the heart of downtown. After the flagship store closed in 1983, the structure would bring back fond memories of a vibrant downtown," says Sandra Laux, Project Architect, Hamilton Anderson Associates. "We now have the opportunity to be a part of creating unique, new architecture in one of the few vacant sites downtown."
HAA is thrilled to collaborate with SHoP Architects to design the proposed Hudson's site development! The plans include retail, residential, parking and a community civic space focusing on technology as well as local food and culture for residents and visitors alike.
The proposed 52-story building is estimated to include:
250 residential units totaling 441,500 gross square feet
A nine-story podium comprised of 733,823 gross square feet of mixed use, commercial, office, technology, arts and culture space
Three stories below grade featuring additional commercial space on one level with 700 parking spaces on the other two levels
An economic impact study from New York based WSP-Parsons Brinkerhoff estimates the Hudson's development, which is projected to attract three million unique visitors per year, will:
Create more than 5,800 direct and indirect jobs and $1.5 billion in new economic output during the construction of the project
Generate $230 million in direct annual spending and support 3,000 direct jobs once the project is completed
Generate $560 million per year in economic output, or nearly $6 billion in total economic output over 10 years
For more information on the project, visit http://hudsonssitedetroit.com.