Thursday, January 4, 2018
Employee Spotlight: Dana Hernalsteen, Designer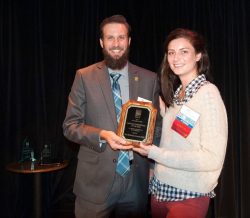 A graduate of Michigan State University, Dana Hernalsteen has worked on the landscape team at HAA over a year and a half. In October, she received the Emerging Professional of the Year award at the Michigan ASLA Conference.
Check out our Q & A with Dana below!

Where are you from?
I grew up in Harrison Township, about half in hour north of Detroit.
How did you end up at HAA?
I met Burke through a Greening of Detroit Volunteer Project. I also worked on the executive community with Kevin Stover at Michigan ASLA.
Why did you decide to go into landscape architecture? Was this always your "dream job"?
I was a weird child that watched HGTV instead of cartoons and drew floorplans of houses instead of playing at recess. It was inevitable I would fall into some sort of architecture field.
In high school, an aptitude test stated I should become a Landscape Architect. After I researched it, I feel in love with combination of the natural and the built environment.
What is the most interesting part of what you do?
There is always something new to learn. Every day is different and is shaping me to become a well rounded landscape designer. Our team provides great mentors that you can look up to in and outside of the office.
What's been your favorite HAA project? What's your favorite part of working here?
I specifically like working at HAA because of the variety of projects we get to work on. Not many LA's can say they have worked on an urban farming project (like Recovery Park), athletic complexes (Belle Isle) and mixed-use (Brush Park) all in one week!
What do you do outside of your work here?
I am a big boater. I spend majority of my summers on Lake St. Clair with my brother. I also enjoy going to Detroit sporting events. I love camping and have recently gotten into hiking.
Anything else you'd like to add? (fun facts, interesting things, etc.!)
I love to repurpose  furniture – I rarely buy anything new. I also have an unhealthy obsession with my dog Molson.