Thursday, September 27, 2018
A Quick Chat with our CKLDP Fellows
The Christopher Kelley Leadership Development Program was founded in 2013 by AIA DC, in memory of Christopher Kelley, an employee of Gensler and an active member of the DC architectural community. Christopher, who passed away suddenly in 2012, was a recipient of the AIA Young Architects Award in 2010 and an exemplary, emerging young leader. Through his volunteer efforts, he participated and contributed to initiatives and programs that have had a positive impact on emerging professionals at different stages of their careers. Since its founding, this program, now established in several cities across the country, strives to carry forward Christopher's legacy of leadership and activism.
The year‐long program consists of nine individual half‐day sessions attended by a competitively selected group of 16 Scholars. Candidates must go through an application process for selection, evaluating criteria including proven career success, community involvement, and the individual's firm/agency support. (AIA Detroit)
Nicole Gerou participated in the 2017-2018 inaugural cohort and Bria Johnson has been selected to participate in the 2018-2019 cohort. Recently, we sat down with them to gather their thoughts on the program.
Is there anything that you're looking forward to?
Bria: I'm really looking forward to learning about everyone else. I think because this is my first time doing something with AIA, in general, I don't have many expectations. I'm pretty open minded to everything that comes my way.
Nicole: Being re-inspired. I was kind of in an "inspiration lull" and I realized that I wasn't involved with anything. I realized – for me at least – to stay inspired in this career, I need to be involved. I can't just go to work and go home; I need conversations outside of the office that relate to the bigger picture of the profession.
What would you do differently in the program?
Nicole: I'd reschedule my surgery around it – I missed the second session because of it. It was a session on leadership and how to lead. They brought an outside consultant in to perform the Myers Briggs Test. I was pretty bummed that I missed it.
How were the sessions?
Nicole: The hardest part was actually planning the session. We had so many ideas on what to do, but we had to narrow it down to a five hour session. I was partnered with a coworker from a former employer, who had different views than I as well, but we worked together to plan a great session.
Bria: *grabs heart* Five hours?
Nicole: Yeah it wasn't as bad as you would think and went by fast.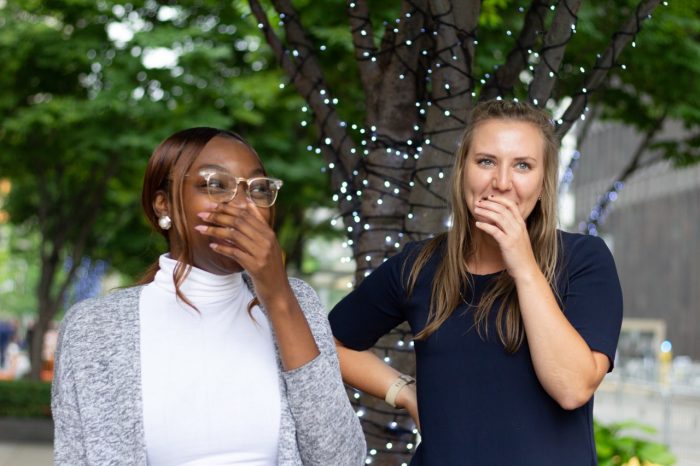 Bria: What does your session consist of?
Nicole: Starting with lunch, of course. Then we moved into a lecture about what people think of their firm vs what is happening and how to break through the glass ceiling. Then we had an interactive session on categories of what you think your firm should consist of. Essentially, we had people prioritize what they would want if they were to start their own firm. We analyzed what makes people stay or leave their current firms. Then we ended the session with a panel of leaders and higher-ups in different firms. We wanted to have an open conversation about firm culture with the decision-makers in the firms. Then we had a happy hour. It was a successful session!
One thing that was slightly disappointing in some other sessions is that the guest speakers didn't know about the happy hour. So definitely make sure that you tell everyone to stay the entire time, or come back for the happy hour.
Nicole: What do you expect?
Bria: Learning about everyone else truly. (laughs) I think it's totally different when you're coming from AIAS (American Institute of Architecture Students) to an actual AIA Chapter.
Any funny stories from the program or memorable moments?
Nicole: Shannon, VP at HKS, came into a session about communication and business development. Basically telling us how to nail the interview for projects. He had a piece of paper with a couple of intersecting shapes and had me describe it to everyone. Most people got it. But at the end of the session he told me that I could've shown the drawing to people instead of telling and narrating it. It was definitely a different way of thinking! We learned that there are three different approaches to the interview and if you go in with the right approach, you will more than likely get the job!
So what are those three approaches?
Nicole:
Pick us, we're the best
Why us?
Client First
He explained that it's a calculated risk when you take one of these approaches and you can't describe what you do in an interview, you have to show what you do. But all of these start with the relationship you cultivate with the client.
Bria, you're no stranger to HAA having interned with us for a few summers. But, how does it feel to be a real, full time employee at HAA?
Bria: It's good! I feel like I'm learning more in terms of how the company is outside of the three months I interned. Three months in the summer was way too short. It's not that different. As an intern, I was involved in complex projects. I kind of felt as if I was an employee before I was truly a FT employee.
The pay helps right?
Bria: Of course!
Here's a general question. But, what does leadership mean to you?
Nicole: I think leaders listen better than they speak. They act on behalf of others for the betterment of all.
Bria: I think leadership is wanting to implement a change and being at the forefront of that change while understanding that although you are a leader, you're first a team player. You have to understand how to weigh the pros and cons of a situation before you react to make a decision.  Also when you have to make a decision, take yourself out of the equation. Take away what you can personally gain and benefit.
Nicole: Yeah. It's not about you. It's about the collective and removing yourself from the decision making part of it.
Bria: Leaders don't have all of the answers and should seek the advice of others to make a better decision.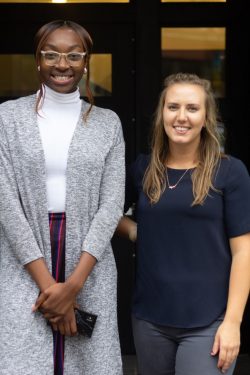 Last question: Any fun facts?
Bria: Fun fact: I'm not a good writer.
Nicole: Did you know Monday was national left handedness day?
Bria: Wait you're left handed?
Nicole: Yeah! I'm also from the UP.