Monday, January 22, 2018
A letter from Rainy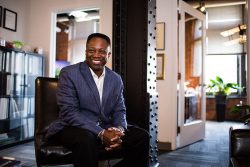 Happy New Year! With a new year upon us, I'd like to take the opportunity to reflect on the last year for HAA.
In 2017, we remained true to our design mission and were rewarded for those efforts. I am pleased to announce that HAA received a total of 10 awards for our work, including three professional design awards from the National Organization of Minority Architects (NOMA), an award from the Michigan Chapter of the Association of Landscape Architects and the Michigan Chapter of the American Planning Association.
We had a myriad of project types reach completion in 2017, including the Little Caesars Arena, the Thompson Home on Wayne State University's campus, Orleans Landing and the Ralph C. Wilson Foundation's new offices, located in Midtown.
We broke ground on four important and iconic projects for both our firm and the city of Detroit: City Modern Brush Park and Elton Park in Corktown, both are mixed-used developments in two historic Detroit neighborhoods; Anthony Wayne Student Housing, a student housing project for Wayne State University; and the Hudson's site, which is a mixed-use development on the site of the unforgettable J.L. Hudson's flagship store that will become Detroit's tallest building, standing at a staggering 800 feet. It's a great time in the City of Detroit!
And perhaps the most important accomplishment for our firm in the last year was our participation in service projects throughout the city, including:
Hosting two summer interns through the Grow Detroit's Young Talent (GDYT) program
Participating in Life Remodeled for the third consecutive year
Spreading holiday cheer by creating Christmas crafts for children in the area through We Care
Participating in CANstruction, where we won the award for Most Cans with 5,238 cans which were all donated to Gleaners Community Foodbank
Adopting five children from the Northeast Guidance Center and blessing them with Christmas gifts
Our commitment to the community remains unchanged.
2018 will mark our 24th year of operation, and as we move forward, we're focused on continuing to grow our practice and make an impact on local, national and international levels.
I wish you all a wonderful new year full of joy and treasured moments.
Best,
Rainy Hamilton, Jr., RA, FAIA, NOMA
Principal in Charge